guest post by Shirley Vernick
We are pleased to offer a guest post from another writing mom this week. Shirley Reva Vernick is the author of the young adult novel The Blood Lie (Cinco Puntos Press 2011). She's currently working on her next book and running the storytelling website storybee.org. She lives in Western Massachusetts with her husband, their two daughters, and two frisky dogs.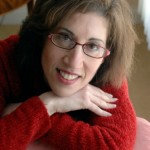 Now that my children are in high school, I'm trying to decide which end of the parenting spectrum makes it more challenging to write: the teenager end or the munchkin end. When my girls were small, my biggest hurdles as a writing mom were to get them to (a) nap and (b) comply with a reasonable bedtime. When they weren't asleep, I wasn't writing – I was feeding, diapering, playing games, reading aloud, making crafts, and otherwise amusing the troops.
Obviously, afternoon naps and decent bedtimes are long off the table. But that's okay because I traded them for the little yellow school bus that whisks the darlings away for seven to eight hours at a shot. That's the kind of relatively uninterrupted time I could only dream of when the girls were at home full-time. I work best during the morning and early afternoon, so school hours are perfect for my work routine. Thank you, innate biorhythm!
Blocks of early-day alone time aren't the only benefit of the girls' being older. The substance of the parenting I do is also easier. I found the constant entertaining of infants and toddlers to be exhausting. The teenage stuff isn't a cakewalk by any means – think mean girls, school stress, driver's licenses – but overall, it's a more comfortable fit for me. I enjoy the talking, the processing, even, to a certain extent, the arguing with my teens. What can I say – I like words, whether they're written or spoken. My daughters are just now starting to think about possible careers and colleges, and it's downright exciting.
Sometimes on the weekends, I do miss those afternoon naps, and I wish the girls were in bed at 11 p.m. on a Saturday night instead of texting me for curfew extensions. But I'm not complaining. I still have more mental energy, in addition to more physical time, than when they were small. Plus, as a young-adult writer, I feel like my writing and my parenting inform each other. Now if I could just find a way to keep on top of the laundry too…