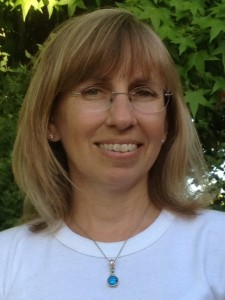 Editor's Note:
This week we welcome Liz Brennan, though you first met her in an earlier post here on MWM, "Poetry Moms attempt Night Out." Liz and I met through a mutual friend, a sculptor, who pulled us both aside and said, "I know this other mother who writes poetry…" We agreed to meet at the park while the kids kicked a soccer ball in the grass and never looked back. We meet one night a week to exchange poems and almost more importantly, to discuss how we stayed sane, or didn't, during the week apart (as mothers, wives, writers–thank you Liz for your loving ear). Only good can come of writing moms converging—so we encourage finding and meeting with other mother writers, wherever you are, infant, toddler or tween in tow, if not in person, come out and play with us on-line! We're here for you. –Tania Pryputniewicz
Words in Place
By Liz Brennan
It is mid-afternoon and the fog comes roaring in early. The rocks are large and jagged and come together sharply at odd angles. The sea is gray today, reflecting the colorless fog. Short, choppy waves break on the water slicked rocks, turning them black, as we weave our way along the jetty. The west wind blows strong and chills my cheeks, while the irregular path I must follow, with steep inclines, bumpy slopes, and raised patches of scaly white barnacles rough on my bare feet, leaves me feeling fatigued. Still I press on, trying to keep up with my son, trying not to let him get too far ahead of me. He's leading the way, maneuvering from rock to rock with ease.
Summer vacation, a time to slow down the pace and reunite with my eleven-year-old. As a public school teacher, mother (and writer), I spend August through May doing triple time. But in the summer I forget about the schedule. I forget about the papers to correct, units to plan, report cards to sign; classrooms, computers, and deadlines. With notebook in hand I venture out with my son to those quiet places where the tree line starts and the sidewalk ends; where the sand meets the water. I take time to listen to the cheerful whistling of birds, watch a squirrel's circular sprint up the trunk of a tree; slow down to smell the fresh scent of dewy grasses and proliferate flowers; pause to run my fingers along the soft underside of magnolia leaves and tickle the edges of rough, corky pine bark.
When I am embraced in place, I sense what is possible. A day brims with discoveries where there was once familiarity. Messages materialize when I take the time to listen, and look.
Many of the prose poems I have written since the birth of my son chronicle our simple interactions within the realm of the natural world:
We pick the first ripe blackberries
of the season and their sweet, fragrant allure dissolves into nothingness on our tongues. Reaching in greedily for the ripest, juiciest berries perched high at the top of the bush, I lose my balance and fall sideward into the thorns. 
I unwind the hose, send a light spray
skyward, and he is the first to see the rainbow. Bell-shaped flowers droop under the weight of even the finest drops. The unexpected shower scatters misty beads along a spider's woven silk. Green leaves at branch tips wear a polished gloss.
When minnow dies we place her
in a tiny porcelain dish and set her on the window sill to await burial. Overnight her miniscule remains shrivel. Slight and evanescent, we bury her between the hibiscus and the spinning pinwheel. It takes a single finger to make a hole that's big enough.
Writing these tiny, bite-sized poems nourished me at a time when my son was young, maniacally energetic, and occasions to write were difficult to come by. Today I continue to return to the outdoors to practice seeing beyond my eyes and hearing beyond my ears, while hunting for the words that will best express this oneness I feel with the world. With a depth of obliging images at my disposal, I invite, welcome, and include.
The fog thickens and like a cold gray shroud tightens its hold the shore. Just when I am ready to turn back, we come upon a small cove nestled on the side of the jetty that shelters us from the wind. I sit down quietly and beckon my son to do the same. Within a minute or two the first crabs appear, inching out from beneath the dark mossy rocks, scuttling sideways across the slick and slippery terrain. The crabs are black with dark green spots. Most stay half-hidden, submerged in shadow, ready to run for cover, all except for one, the largest one by far, a male with a bulky white claw. He remains out in the open, feasting on bits of wet moss. We are so close that I can see him stuff the moss he gathers at the tip of his claw into the tiny hole that is his mouth. He remains undisturbed as we watch.
Elizabeth Brennan lives in Sonoma County , CA . Her prose poems have appeared in a variety of journals including The Prose Poem: An International Journal, Key Satch(el), Lift, Paragraph, Haikupix Review and ZYZZYVA. She is author of the chapbook Sewing Her Hand to the Face of the Fleeting (Quale Press). Her work is also included in the microfiction anthology Exposure published in the UK by Cinnamon Press, October 2010, and Bigger Than They Appear: Anthology of Very Short Poems edited by Katerina Stoykova-Klemer, Accents Publishing, 2011. She invites you to join her online class Words In Place: Reconnecting to Nature Through Creative Writing beginning July 16 at Story Circle Network.