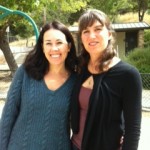 by J.L. Powers
Like most women, I've always enjoyed close, personal friendships on a number of levels. After I became a professional writer, I floundered in the sea of published writers–wanting to become friends with some of them but not knowing quite how to do it. I still felt like a fraud, even with a book coming out from Knopf. Writers need other writer friends–when you become published, it's even more important because it's all part of staying in the business, marketing yourself, finding and keeping contacts. But I kept wondering, Why would they want to talk to me? I felt shy approaching other published writers. Occasionally, when I did reach out and the response was what I expected (this attitude of "well, you're not part of the clique of cool writers, and I've never heard of you before anyway, so I don't want to bother with you"), it made it that much more difficult to keep trying.
So in the five years since my first novel came out, I've spent lots and lots of time in front of my computer screen, perfecting the art of writing, and only occasionally doing the other part of being a writer, which involves going to literary readings and hanging out with other writers, making friends and, at the same time, networking.
Since my son was born, it's been that much more difficult to get out and about. With the limitations on my time, the computer beckens ever more seductively.
Thankfully, there are people like Tania Pryputniewicz in my life. Tania is the other half of Mother, Writer, Mentor and also The Fertile Source. On Tuesday, she and I each drove an hour one way, kids in tow, in order to get together. We met at a park and while the kids played in the sand and on the swings and with pine cones, we talked about the writing life, our editorial vision for The Fertile Source, and plans to enhance the Mother Writer Mentor experience. We swapped links and emails of important contacts. We compared the dark circles under our eyes and comforted each other that the exhaustion that accompanies a life which combines art and motherhood wouldn't always be our lot in life: the kids grow up and it gets easier.
Thankfully, there are people like Emily Jiang in my life. Emily is finishing up several novels and currently shopping for an agent. Someday, she is going to easily fit into that circle of cool writers, and hopefully, I'll get to tag along. Last Friday afternoon, I called her up. I had arranged for my husband to watch our son that night so I could drive to San Francisco and attend a party celebrating young adult writers in the Bay Area at Not Your Mother's Bookclub but I was chickening out. Maybe I should work instead, I told Emily's answering machine, or maybe it's just too much of a hassle…Really, I just get shy sometimes, I suppose. I'll go if you go, I said and then hung up. She called me back. "You should definitely go," she said. And then she came too. And in the end, I was glad I went. I only talked to three people, but two of them are YA writers I know and like and respect and we made plans to get together again.
Thankfully, there are people like Nancy Bo Flood in my life. A grandmother now, and a writer with several books out, Nancy encourages me to be the pioneer–to navigate that uneasy ground of being a professional writer with a child. Her encouragement has been pivotal in my determination to take Nesta with me to conferences, including a writing retreat.  And I've been grateful to her for that support and for being a sounding board for how to be fully a mother, fully a writer, and to do both with integrity and with respect for the people around me. It's no good to bring my child along if he disrupts other people's experience.
Thanks to all those mother-artists who have trod the path before me and can share their friendship, support, and nuggets of wisdom.