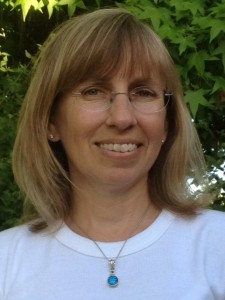 By Liz Brennan
I cherish cool summer mornings, and my daily walk along the Joe Rodota, miles of paved trail that runs along an abandoned railroad line just a short distance from my home. In spring and summer there is a burst of color from wildflowers, and it is always an excellent place to spot birds.
Sometimes the walk is more of a wander or meander. I take a notebook along and jot down impressions of nature as they come to me: Three turkey vultures in the distance soar in an upward spiral/ the young quail scatter into the blackberry thicket as I approach. Other days the walk is more about fitness, and I plug my ears into the song shuffle of my iPod, relying on a rhythmic beat to keep my legs moving at a brisker pace.
Recently, a particular song has repeatedly come up in the shuffle. It is Mother Rose, a beautiful ballad by Punk Rock's poet laureate Patti Smith from the album Trampin', which includes several songs in tribute to Patti's mother, who died in 2002. I am drawn to the song's tender reflection on the selfless care her own mother bestowed upon her, a role which she in turn takes up with her own children:
Mother Rose
By Patti Smith
Mother rose
Every little morn`
To tend to me
There she stood
Waiting by the door
Selflessly
Took my hand
Took it with a smile tenderly
Mother rose
Every little morn`
To tend to me
Now`s the time
To turn the view
Now that I have you
(Mother Rose: entire lyrics)
It is well known that in the midst of a successful recording career, Patti took the risk of withdrawing from the limelight –sacrificing her personal goals for the benefit of her family. She retired to a life of domesticity in 1980 where she lived near Detroit, raising two children with her husband Fred Sonic Smith; what isn't as widely known is that it was during this time of withdrawal from music and immersion in family and motherhood that Patti turned her attention to writing.
From a 2011 interview in the UK Guardian, she states "I was still a worker. Some people said, 'Oh, well, you didn't do anything in the 80s' – first of all, to be a mother and a wife is probably the hardest job one can have. But I always wrote. I wrote every day. I don't think I could have written Just Kids had I not spent all of the 80s developing my craft as a writer." She wrote for three hours every day, from 5am to 8, when her baby woke; having two children, and a husband. Smith states, "I had to learn, really, how to rein in my energies and discipline myself. And I found it very very useful. I rebelled against it at first, but it's a good thing to have."
Increasingly, books became her world, and by extension, wanting to write them. "Everything else grew out of that. More than anything that's been the thread through my life – the desire to write, the impulse to write. I mean, it's taken me other places, but it was the impulse to write that led me to singing. I'm not a musician. I never thought of performing in a rock'n'roll band. I was just drawn in. It was like being called to duty – I was called to duty, and I did my duty as best as I could."
I appreciate that Smith followed her own muse wherever it took her — from structured rock songs to free-form experimentalism, or even completely out of music at times. I hear echoes of my own "turned view" in the lyrics of Mother Rose. It wasn't until I became a mother myself that I could fully appreciate all that my mother had selflessly provided for me by making herself immediately available at any time of the day or night. Even today my mother's eyes continue to flash out of the darkness in that manner of love that can't ever be contained in the narrow realms of earth and so races into the sky, light as a bird, flying without fear, full of ethereal joy.
As Edemariam writes in the interview, it is Patti's "sense of wonder, her openness to the possibility of wonder in herself and others, that gives her a singular presence and underlines in her an unexpected warmth and delicacy." Perhaps it is the desire to feel everything in her power with heart, eyes and lips, events bared to the bone that places her deep in the world's chaos of language, concepts and vital sensations. And maybe in motherhood she is further carried off by the richness and the greenery. Proud and touched to the point of tears by what is beyond human about the ordinary, I listen to the lyrics as if I were in some kind of transcendental time machine, attending the events themselves.
Elizabeth Brennan lives in Sonoma County , CA . Her prose poems have appeared in a variety of journals including The Prose Poem: An International Journal, Key Satch(el), Lift, Paragraph, Haikupix Review and ZYZZYVA. She is author of the chapbook Sewing Her Hand to the Face of the Fleeting (Quale Press). Her work is also included in the microfiction anthology Exposure published in the UK by Cinnamon Press, October 2010, and Bigger Than They Appear: Anthology of Very Short Poems edited by Katerina Stoykova-Klemer, Accents Publishing, 2011. She is currently teaching the online course  Words In Place: Reconnecting to Nature Through Creative Writing for Story Circle Network. Read her first guest post for us here.