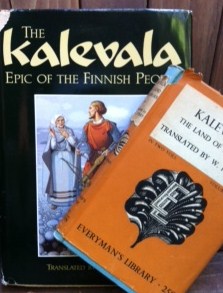 By Tania Pryputniewicz
For awhile now, Jessica Powers (my co-conspirator here at Mother Writer Mentor) and I have talked about how to expand the reach of The Fertile Source to include international writing and artwork. After our debut round of poetry workshops at MWM (Poetry of Motherhood and Poetry of Fatherhood), it seemed only natural to dispense with the separation of the sexes and teach a course for both mothers and fathers. And to go ahead and explore international birth stories and writings with this group.
Which means, the latter half of this summer, I've been gradually preparing to teach "Reading and Writing the International Poetry of Motherhood and Fatherhood," living in that fitful, obsessive zone, as teachers tend to do—imagining, dreaming across the globe, mining for possible example poems and essays. Inevitably, that globe spun all the way back here to the redwoods to my own family table, where I realized, by marriage, I've been blessed to double my family tree and my stories of ancestry.
In my husband's family exists a beautiful story of the determination of a mother writer, though she would never have called herself a mother writer, and in fact lived and died before the explosion of the internet. My husband's great grandmother Helmi (of Finnish descent) kept a diary recording her daily life. How different were her trials, working from and early age (pre-teen) in the homes of other families, assisting with everything from sewing to cooking and cleaning to gardening. How about skiing through the woods to school? Or taking a boat away from your family and your country, forever, across the sea to the East Coast, eventually putting down roots in California. Helmi's work in the homes of strangers continued; in addition she kept her work up on the side (after ten hour days) as an actress in theater as well as pursuing politics.
During Helmi's lifetime, her husband transcribed her diaries into one cohesive narrative. After her passing, her loving son, Allan, took up the work of translating the story from Finnish in to English. By the final decade of Allan's lifetime, I had married into the family and had the honor of working with him, entering the typed translated pages onto the computer. I was with him the afternoon before he passed away; that day we bent our heads together over a sentence he was trying to right. Before I left, we looked through black and white stills of his mother sitting beside a stream nursing him as a child.
I was particularly moved Allan shared those photos with me, as earlier there'd been some family tension about my insistence on nursing each of my children for the first year of their lives (understandably so—California values clashing with conservative generational values). I persisted with my nursing, though often awkwardly so. Though Allan didn't say a word that last day, I felt he showed me those photos in a final gesture of approval: he knew firsthand the bond nursing mothers and children share.
During this class (which starts September 10) I will be sharing an excerpt from that manuscript in which Helmi recounts her own birth story which features, among other things, a severe snow storm and her fiddler father's sleigh ride out of town for the weekend of her birth. We will also read some excerpts from the narrative poem, The Kalevala (the national epic of Finland). We will spend time with a number of other countries including the aformentioned Finland and South Africa, just to name a few. I hope you'll join us to mine the hidden stories in your ancestry, and more, and if you are unable to join us for class, consider a guest post for MWM in which you share with us the birth story of a writing mother in your family's past.
Books displayed in photo:
Kalevala, The Land of Heroes, Translated by W. F. Kirby
The Kalevala: Epic of The Finnish People, Translated by  Eino Friburg, Editing and Introduction by George C. Schoolfield, Illustrated by Bjorn Landstrom