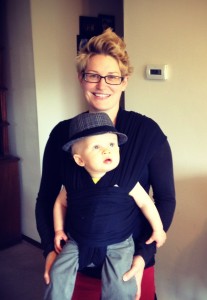 This week's guest post comes to us via Cori McCarthy. Cori earned an MFA in Writing for Children & Young Adults from Vermont College of Fine Arts. Her debut novel, a YA space thriller entitled The Color of Rain, is forthcoming from Running Press Kids in May 2013. You can follow her tweets @CoriMcCarthy, Like her at www.facebook.com/authorcorimccarthy or check out her website at www.CoriMcCarthy.com.
Before the birth of my son, Maverick, I did two things with 90% of my time: I slept and I wrote. And as the wife of a historian/professor/author, we lived this tandem existence so very happily. Having children sounded like the next best step, and as we told each other, we have unique, flexible schedules. This will be easy. We won't even have to use daycare.
You know where this is going, don't you?
My son was born mid-step in living up to his name. He was wonderful, albeit colicky, and never, ever asleep. And when he was only six weeks old, my first novel went out to editors while I was still recovering from his traumatic birth. I have it all, I thought as I received an offer from Running Press Kids. Triumph! I'm a mom and an author. Two of my dreams came true in less than two months of each other.
But the honeymoon period of being a brand new mother and author wore off in a blur of endless daysweeksmonths of no sleep. My son was in a lovely habit of getting up every two hours all night long, and instead of bowing to the adage of "sleep when the baby sleeps," I struck out each morning to the coffee shop – sans the coffee – and wrote. My friends were stunned. How do you write 3,000 words a day with a small baby?
 Huh?
 The question stumped me because I couldn't imagine not writing. Okay, so I'd lost my prized second love of sleep, but I would never ever give up my stories. I needed them. They were all that kept me from succumbing to complete exhaustion, and I didn't quite know it yet, but I was self-medicating, staving off depression with words.
 Writing and being a mom became my new 90%. And with one foot in each camp, I kept pushing myself. I finished a brand new YA novel while my son began to roll all over the place. And I was so tired and invested in my protagonist's mind that I all but missed it.
 But this imbalance wasn't apparent to me until I came home from the coffee shop one day, finding my husband on the floor with our son, playing with blocks in one hand and typing with the other. I melted into tears. How did he do both at the same time? And what else was I missing in driving not only my body to the coffee shop every day, but my mind into a fictional world?
 Where in the blazes is the balance between the two? I was desperate, and I did what any sleep-deprived mother might do: I sat my six-month-old down at three in the morning and asked him. What's going on? Why aren't you sleeping?
 "I'm a night owl, Mom," he seemed to blink at me. "Just like Dad. But you know that scene that you're having trouble sorting out? Why don't we talk about it if we're both not going to sleep?"
 That's when I figured out that, like his father, my son is a genius. Although I may never be able to write in the same room with him, he can hear my stories. He can be part of my creative process. He can be the fulcrum, instead of just one side of my scales.
 Now I'm working on stories for him, ones which make our stroller walks ridiculously fun because I'm no longer splitting up writing time on one side of my life with being a mother all the way on the other. It's a new balance, but one which excites 100% of me and makes the (still somewhat) sleepless nights a survivable affair.
 Although, I am pretty sure that the other moms on the playground steer their children clear of the woman who acts out stories for her son while she pushes the swing.