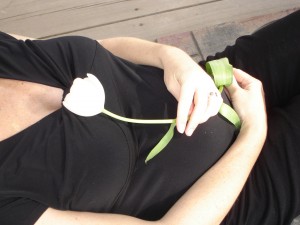 If you are among the fortunates blessed with a lifelong love for writing and you happen to be a mother trying to balance your topsy-turvy world of raising infants, toddlers, tweens or teens, consider joining us at Mother Writer Mentor this coming Monday, November 5, for a month long gentle blogging class in the company of other writing mothers (sign up here under our poetry workshop tab).
As a mother of three children under the age of twelve, I know well the dual pull to "mother" and the dual craving to write. In the wake of raising my three, early on not only was my body under the physical state of daily dissembling that occurs under steady nursing, but my mind followed suit, hazy and fragmented, hovering near perpetual thresholds between sleep and waking life. I wouldn't trade those hours today (a form of fertile reverie to be mined later), but at the time, I felt vaguely alarmed as if under threat of near vaporization.  I needed to reach for some kind of solid ground outside of myself.
As a form, blogging offers a malleable structure for writers. You set the deadline, you set your pace, your subject, your scope, and move where you will. Blogging can be as formal or informal as you wish but offers the tangible anchor of "a room" you return to you again and again in which you leave behind an accretion of moments in time.
I first learned about blogging from my sister-in-law, Maria (and my brother), who mentioned a blogger ingeniously using the handle the Yarn Harlot . Maria, an amazing knitter, likely marginally tired of weathering my ramblings about losing connection to my former writing life, explained the niche beauty of blogging and plunked me down in front of the computer, showed me the Yarn Harlot's page (at that time sporting the image of the book blogger Stephanie Pearl-McPhee had written based on her yarn blog–she since has authored 5 or more books), and stood behind my chair until I had signed up for my account on Blogger.
"Now go…" Maria said with her characteristic irreverent and loving commanding tone great for setting one's world irreversibly in motion. I wrote my first entries with my writing desk butted up against the bed where my third nurser slept. My psychic world of mothering and my laptop converged in a hazy milky swill where the tapping of the keys threatened to wake my little guy. Over time, as the three children grew past the kneecaps, the blog (Feral Mom, Feral Writer) grew on me and I looked forward to crafting one or two paragraphs to timidly post and loved the tiny professional deadline I could set.
Join us–we can, if nothing else, correspond as you log on when you can. If you manage to draft up a blog post, fabulous. If you don't, you can keep the "assignments" for another time. The kids come first, but we can find a way to nurture the writer in you as you mother. We will do some basic writing and subject inventories and look at which aspect of subject you might want to cover in your blog.
I'll close with a secret…blogging is writing…of any form, either happily shaped to live on your blog, or reshaped later if you so wish. Want to write haiku? Check out Peggy Christian's blog Backwoods and Beyond: A Montana Naturalist Takes to the Woods (Peggy was in one the first blogging course I taught last summer through Story Circle Network). Marlene Samuels, also in that first class, blogs about food and recipes here. She also wrote a guest post for me over at Feral Mom, Feral Writer titled, "Counterpoint to Tips for Mothers Pursuing an Online PhD. Both of these bloggers have grown children and served to inspire me towards a future time when my psychic horizons might open up again as theirs have (children fledged).
Or stop by Lisa Rizzo's blog Poet Teacher Seeks World . We first posted Lisa's poems covering the choice to forego motherhood (though she mothers dozens of children, year after year, as a middle school instructor) at The Fertile Source.
And if you haven't already done so, check out some of the blogs of our past Mother Writer Mentor contributors: poet Liz Brennan's Blog Perhaps Maybe: Perhaps maybe isn't such a bad word. Maybe perhaps is; last week's MWM post author,  Kenna Lee, blogging at: a million tiny changes: mothering in a changing climate, or poet Alexandria Peary, blogging at Your ability to write is always present: A blog devoted to mindful writing and overcoming writing blocks.
And if you are merely passing through, a writing mother yourself, send us a post about how you manage to blog and to mother, or how your blog and motherhood interact. We'd love to hear from you.