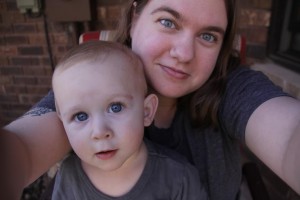 Editor's Note: As we gear up to publish a print anthology of poetry and interviews previously published on our sister site, The Fertile Source, we are excited to offer a slice of the current life by the writers we will feature in the anthology here at MWM. We first published Molly's poems and her interview, Mother Resource Maven for Mother Writers and Artists in 2012. Here, she reveals the process behind her new book, Nestuary.
After my daughter was born, I used to sneak downstairs, sometimes at three, four in the morning and shower.  It was easiest this way; I had long adapted to the routine of showering in the morning, starting a day slick as a seal, not yet doused with spit-up and blow-out.  Maya was proving incredibly difficult in terms of my walking-away—we co-sleep and co-nap—so slipping away at that time was the only option.
And then:  if I'm alone now, why not more?  Why not allow that loose-brained half-asleep state to be my time to produce?  And so this is when I wrote my post-birth poems.  Strings of them.  A new routine was born:  nurse, tuck baby into my husband's arm, slowly creep away, shower, write a poem, crawl back into sleep.  Sometimes, in the morning, I was surprised by what I had written.  Sometimes, even the surprise was a good thing.
This wasn't quite how Nestuary was born. Instead, this volume came out in one frenzied weekend.
Nestuary is a lyric essay that spans my experience with (in)fertility and treatment, with one of those nauseous, ridiculously troublesome pregnancies, a 42-hour-labor that culminated in the dreaded c-section, and then the aftermath—the motherhood, the nursing (like a fountain, it was!), the second child.
I'd prepared without knowing what, exactly, I'd been preparing for when I read stacks of books on motherhood:  The Grand Permission:  New Writings on Poetics and Motherhood became a kind of bible for me.  I toted it around like I did my "Dee-dee" when I was a little girl, keeping a pen in the middle, ruining the binding, purpling the margins.  I followed those wormholes of strange links:  Alabama GOP Lawmaker Claims A Baby Is The 'Largest Organ In A Body!'  Victorian Headless Photography!  I never realized these things were simply stockpiling—as Julia Cameron calls it, filling the well.
And I certainly didn't realize how full-to-bursting I was.  I'd call the weekend I wrote the first draft of Nestuary, my letting-down.  (After all, I'd hate to call it my let-down, as it was such a gorgeous relief, none of that painful pin-like pressure that is the milk's pressured release.)  My husband knew what was happening before I even did, or maybe his actions fostered it:  he set up two monitors on the dining room table, hooked them up to my laptop, and for something like three days, I had one monitor running internet links (mothers in comas remaining pregnant, bits of my MFA thesis essay) and the other the document, which I started calling my "M/Essay."  My husband said, "Oh, your Mestuary?"  My Nestuary.  Scattered paper strips, notes to self, books with little flags waving.  It came out, full throttle, while my husband ran interference with the kids.  I'm fairly certain the Academy of American Pediatrics would frown upon our use of screen time, but it was mama's screen time that was frothing this time.
Now my daughter is three and the book that took a weekend to write the first draft of debuted at AWP, selling out of copies on Thursday night (replenished from stock the next day).  Readers sent me emails so kind I have felt tears sting my eyes:  it's doing what I wanted it to do, which is reach out to women who have struggled, who needed to know the lack of alone-ness in the experience of becoming a mother, a tumultuous, physically astounding time.
Reducing the sense of alone-ness has always been a driving force for me in my work.  A year after Maya was born, I started an interview project called Balancing the Tide:  Motherhood and the Arts.  I wanted to gather the voices of mamas at every point in motherhood and every point in career, and it's growing.  I knew I could walk away from poetry—how easy it would be to take my obsessions with words and pour them into perfecting parenting!  But truly, who would I be without poems?  Who would I be in eighteen years?  Who would I be tomorrow?  I couldn't walk; I had to find a way to meld.  To balance.
Writing this book wasn't about balance in the least.  It was a manic enterprise and one I am grateful for every day.  I have said, so often to friends and students, to trust their process—if there is quiet, to respect that, if there is a pulsing need to write, to do that.  But silences frighten me, and I have trouble listening to my own advice.  After I wrote Nestuary, I went silent for eight months.  I'm only just back into full-throttle, and for those eight months, much happened: I mourned the loss of my father-in-law, I sewed fifteen teddy bears, I knit until I had grown new callouses to rival my writing ones.
Life isn't always exactly about balance, I know.  But to be able to make art that reflects human experience, to have a family that supports that—it's a gift I can't explain.  These days, my husband has a frantic project at work that devours a great deal of his time and mine.  As a stay-at-home mother, I rely on the spaces he can provide to get my writing done.  Now, I have to do more to fit things in:  read books while the kids are cooperating and playing on the floor, take notes on documentaries that are inclined towards the next project.  Will I ever have a weekend like that again?  A weekend followed by a small time where I adjusted, sanded, then submitted?  They don't all work that way.  But sometimes, by some magic of timing and the universe tilting, a mother can write like a woman possessed and find something worthy in the result.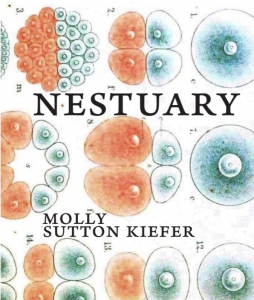 Molly Sutton Kiefer is the author of the hybrid essay Nestuary (Richocet Editions, 2014), which explores (in)fertility, pregnancy, and nursing through various lenses. She is also the author of the poetry chapbooks The Recent History of Middle Sand Lake (Astounding Beauty Ruffian Press, 2010 winner) and City of Bears (dancing girl press, 2013). Her work has appeared in The Collagist, Harpur Palate, Women's Studies Quarterly, WomenArts Quarterly, Berkeley Poetry Review, you are here, Gulf Stream, Cold Mountain Review, Southampton Review, and Permafrost, among others.  She is a member of the Caldera Poetry Collective, serves as poetry editor to Midway Journal, and runs Balancing the Tide:  Motherhood and the Arts | An Interview Project.  More can be found at Molly's website: mollysuttonkiefer.com