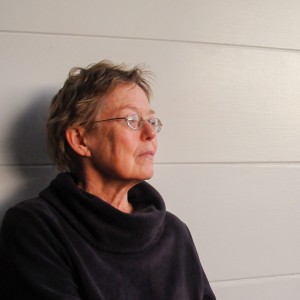 Today's guest post features Ruth Thompson's poem, "My Mother's Hands," forthcoming in her chapbook, Crazing (Saddle Road Press, August 2015). Following the poem you'll find Thompson's author's reverie about her writing process and how she reconciles poet self with mother self and writing about one's mother or mothering. Last year, Thompson midwifed my first book, November Butterfly, into completion, and it is an honor to now have the opportunity to learn, in turn, about her writing process.
My Mother's Hands
by Ruth Thompson
On the steering wheel my mother's hands
clench              and unclench
clench              and unclench.
In the vast antipodes of my belly
my daughter floats.
She is an alligator
watching
from the banyan roots
of my ribs.
One day she will ask
Mother, why do your hands
clench              and unclench
on the wheel?
Child               I will answer
when I fell from my mother's womb
I was scored by her net.
And once when my hands         
unclenched       
I let everything 
fall.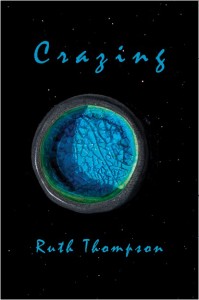 "My Mother's Hands" is about the lineage of mother and daughter and daughter, the patterns we see and those we don't, the patterns we struggle to escape and how, in doing so, we can create disaster.
The poem began in an exercise offered by Barbara Rockman at a recent writers' retreat (the prompt came to Rockman through Richard Jackson and Hilda Raz).
Describe someone's hands.
Describe what they are doing, where they are.
Use a metaphor to say something about some exotic place.
Ask a question of the person in the context of their hands and what they are doing.
They give an answer that shows they only understand part of what you asked.
Immediately I saw the my way mother's hands gripped a steering wheel. Then I remembered the time my daughter told me that my own hands were clenching and unclenching anxiously, as my mother's had.
I had given my daughter up when she was a small child, and this conversation happened as I was driving her back after seeing her again, briefly, years later. And afterwards I lost her again for many years through my own fear and clumsiness.
So at once, intensely, there we all were: my mother and me and my daughter, our lineages of mothering and being mothered (or unmothered), of holding too tightly and of not being able to hold on to what you love.
The "exotic place" became a mangrove swamp in the antipodes; my unborn daughter a dragonfly watching from the mangroves. And the question is asked of me, not of my mother, whose hands open the poem.
Until my daughter pointed it out, I didn't know that I had inherited my mother's anxious clenching and unclenching of the hands.
Clenching and unclenching: holding onto things, then letting go. Being watchful, then careless. Having things in hand, then losing them. Letting them slip.
There is also a heritage of watchfulness, mistrust. My daughter, the dragonfly, watches secretly from inside my belly, even as I watch my mother's hands on the wheel. In my heart is the knowledge that my daughter has reason to be watchful, mistrustful, hostile.
I too am a carrier of this watchful lineage. As a child I watched and adapted to and cared for my mother's desperate hunger. I was the mother and she the child. Later I watched for weakness in the net she held me in, as I struggled to be free.
But a time came when I was not watchful, not careful enough.
Then there is the lineage of nets. Being netted, trapped. The safety net underneath high-flying aerialists – or trying to fly without the net.
My mother's nets bound her, trapped her vast ambitious energy, fueled the nervous clenching of her hands. Her nets, her rage, her clenchings, scored their patterns into me as soon as I fell from her womb. Scored me deeper as I struggled to escape from them.
Ultimately, in reaction to her lineage, I let go – let everything fall. And fell apart.
The poem ends with this image of letting everything fall, but does not explain it. The explanation cannot, perhaps, be written.
The daughter's question is answered twice, once openly and once silently. The first answer is true, but not complete. The second answer is not spoken. It resonates within my mind and plunges me deeper to another, unasked, question.
Crazing, the book in which "My Mother's Hands" appears, is my Crone book. It is about aging, "delamination" of mind and body and of the body of earth which we all share. But mostly it is about joy – joy in the body, joy in the world, joy even in the dissolutions of age.
And joy in the healing of ancient wounds, and the upwelling of love.
Ruth Thompson is the author of three books of poetry: Crazing (2015), Woman With Crows (2012; 2013), and Here Along Cazenovia Creek (2011).
Ruth talks about herself and her poetry in this short, moving video.
In Crazing, Ruth explores dementia, loss of language, and the "delamination" of the earth whose body she shares. "We are blown here out of sight of ourselves," she writes, "staggering and dismayed." Yet the book resolves in expansion, laughter, joy – "seeing, in this dire wind, what there is to worship."
 Woman With Crows, Ruth's second book, was a finalist for the A Room of Her Own Foundation's To The Lighthouse Prize, and includes poems that won the New Millennium Writings, Harpur Palate, and other prizes. Many of the poems celebrate the aging feminine body and the sensual return to earth, as well as a journeying through darkness. Jendi Reiter called Woman With Crows "an antidote to fear."
She is also the author of Here Along Cazenovia Creek (2011) a celebration of the seasons which was choreographed and performed by the great Japanese dancer Shizuno Nasu. See the beautiful videos of this performance.