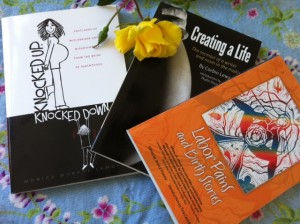 By Tania Pryputniewicz
Last year, Tanya Angell Allen contacted us about doing an interview in conjunction with an article for New Pages, published online today: Mother-Writers, Father-Writers and the End of a Literary Stigma. Allen looks at the challenges faced by mother writers, the fairly recent addition of father voices in relation to the subject of parenting and birth itself, and the growing number of literary magazines, publications, and on-line platforms devoted to the crossover of writing and parenting. And she addresses the changing ways we perceive work written by mothers. I can't pass up the opportunity to celebrate both The Fertile Source and Mother Writer Mentor—both ventures Jessica Powers and I and this year's guest poetry Editor Kate Bolton Bonnici maintain while juggling many other hats.
One of my favorite quotes from Allen acknowledges, "As The Fertile Source and its helpful editors (who also run the blog Mother Writer Mentor) exemplify, those involved in mother-centered literary publications seem to engage less in traditional competitiveness of editors and more in the spirit of collaboration and resource sharing that mothers naturally employ when talking with other mothers about child-related topics." I also love Allen's follow up line of thinking: "literary innovation and the building of community don't have to be mutually exclusive."  Jessica and I have had our share of conversations about how to get to our own work as we foster a spirit of generosity and reciprocity towards other mothers trying to also carve out time for their work. And at the same time, keep from sacrificing literary quality (either in work we write or work we choose to publish).
Women writers have the opportunity and responsibility to actively shape the writing community. Questions of quality of work will persist, but those questions stand to be balanced by questions addressing the quality of life and opportunities for connection and support women writers need in place in order to even get to the work they are trying to write. As any poetry editor will likely attest, one chooses a poem for publication based on a number of reasons (overall knock-your-socks-off wattage, one stellar line that keeps you up at night, or perhaps a unique vantage point). While I stand unequivocally behind all of our choices for publication, I admit I give a bit of extra weight probably to the last–range of vantage point—in hopes of reaching other mothers writing in isolation while grappling with the gritty particulars of birth, labor, nursing, deciding whether or not to have another child (for example, see Brittany Corrigan's Guilt Poem: Unplanned, or her interview: Autism, Second Hearts, Mother Writer Retreats) or check out our interviews for a partial listing). I feel we attempt to nurture the spectrum.
"Why focus on birth and labor?" Esther Cohen (I met her at the summer 2011 retreat for A Room of Her Own Foundation) asked as we walked along the path at Ghost Ranch (first writing retreat attended since birth of my three children ages 10, 8, and 5 at that time). I told her that I believe if you draw attention to the power, beauty, and challenge of birth's rite of passage it can lead to respect and reverence for all life. And renewed passion for exploring and bridging men and women's overlapping spheres of experience in the hopes of creating a more compassionate humanity.
Thank you Tanya Angell Allen for persisting in writing up the interview (despite the tech setbacks we faced trying to live chat and record information and despite the children roaming underfoot as we spoke). In celebration, actually, of those little people roaming underfoot! For they are unwittingly reaping the benefits of growing up in the psychic field of actively writing mothers and the attendant inevitably messy but beautiful day to day matrix of inspiration, setback, and recalibration.
End notes:
We are still accepting enrollment for Poetry of Motherhood—class runs May 6-May 31st. (Access course description here: Poetry of Motherhood and Poetry of Fatherhood). I wanted to slightly amend Allen's discussion about the interest we had in our Fatherhood course. As I poured through The Fertile Source for example poems to use as inspiration for our mother writers, I kept encountering powerful work we published by our father writers and realized we couldn't help but offer both Poetry of Motherhood and Poetry of Fatherhood workshops.